Food and Cuisine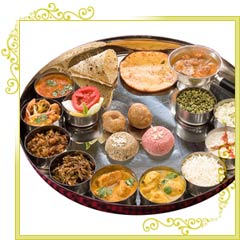 Rajasthan boasts of its fine cuisine. The eclectic array of culinary delights it offers make it a perfect place for the food lovers to be at. The cooking style is inclined to the war-like lifestyle. It is influenced by the lack of ingredients and water in the desert area. Food that could last for days is preferably cooked by the locals.
The cooking style in the state varies from region to region, over short distance. Milk, buttermilk and clarified butter replaces water during the cooking of food. The cooks in Jaisalmer, Bikaner and Barmer prefer minimum use of water. Mango powder is added to enhance the taste of the food in the absence of tomatoes and asafoetida replaces garlic and onions by the Maheshwaris.
Rajasthani food is generally cooked in pure ghee (clarified butter). Though the curries are bright red in colour yet they are not as spicy as they seem to be. Lapsi (made with broken wheat sauteed in ghee) is one of the favourite sweet dishes of the people in Rajasthan.
A combination of dal (lentils), bati ( baked wheat balls) and churma (powdered sweet cereal) is the most popular food that any Rajasthani falls for. But a traveler has several other options as well. Those who have a sweet tooth need not worry at all. Out here in Rajasthan, every single city is known for its particular sweet. Jodhpur is known for its Mawa Kachoris, Bikaner for Rasogullas, Malpuas from Pushkar, Alwar ka Mawa and Ghevar that comes from Jaipur are savored by one and all.
The belief that the Rajasthanis are vegetarian is not so true. They rather love to eat non-vegetarian food, especially on special occasions.
The secret recipes of the KHANSAMAS (royal cooks) rotate amongst the present generation till date. They top the menu list of the social and royal gatherings.
Travel Details (Mandatory)
Get a free quote