Khimsar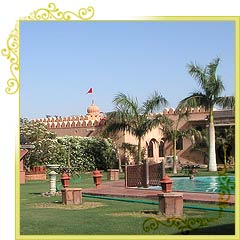 Khimsar is a small village situated between the two major cities of Rajasthan, Jodhpur and Bikaner. It is located in the Nagaur district of Rajasthan and is a great starting point to explore Nagaur. Khimsar is the best place to take a close look of the rural life existing in the desert land of Rajasthan. The small village is a home to several mosques. The Nagaur Cattle Fair organized every year attracts numerous tourists to this place.
Jodhpur royalty claims that Khimsar was never an independent entity. On the contrary, the Thakurs have a different say altogether. According to them, Khimsar was not only a separate entity but Emperor Aurangzeb was one of its visitors too.
The Khimsar Fort is a major tourist attraction that catapults a number of tourists to Khimsar, Rajasthan. The fort has now been converted into a heritage hotel. The courtyards, fountains and gardens inside the fort never fail to bewitch the onlookers.
Reaching There
Jodhpur airport, 92 kilometers off Khimsar, is the nearest airport. Indian Airlines connects Jodhpur to Jaipur, Delhi and Mumbai through regular flights. Jodhpur is the nearest railhead from Khimsar. Jodhpur is connected to important cities like Delhi, Jaisalmer, Agra, Udaipur, Ahmedabad and Jaipur through express and passenger trains. Khimsar is connected to other centers in the region through state transport corporation and private buses.

Travel Details (Mandatory)
Get a free quote