Jodhpur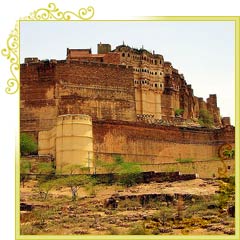 Jodhpur, the second largest city of Rajasthan, is a showcase of the graceful palaces and splendid monuments. The landscape is dominated by Mehrangarh Fort that spreads along a hill. The city of royal splendour was founded by Rao Jodha in the year 1459. The city got its name much after its founder king. It lies very close to the border of Pakistan.
Jodhpur is a leading center for wool, camels, salt and cattle. The best time of the year to visit Jodhpur is between October to March. The city is thronged by tourists from far and wide during this time of the year.
Contradictions of nature can be seen to exist here. The colours in the desert land, make Jodhpur - The Blue City even brighter. The city is so famous and beautiful that Rudyard Kipling filmed some of the scenes of the Jungle Book in this very part of the desert. Jodhpuris, the famous fashion wear are yet another highlight of this city of royal splendour.
Reaching There
The Jodhpur Airport is just 5 kilometres from the main city area. It is connected with the major cities in India through regular flights. Jodhpur has a well connected network of railways. Trains to Delhi, Kolkata, Mumbai and Chennai are readily available. The 'Palace on Wheels' also visits the 'Blue City'. Buses connect Jodhpur with all the major places in and around Rajasthan.
Travel Details (Mandatory)
Get a free quote