Ajmer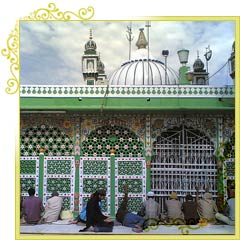 Nestling amidst the Aravali mountain ranges, Ajmer experiences a busy life with its crowded market places and streets crammed with traffic. It is famous for its handicraft items and jewellery in silver.
Ajmer is a holy place for both Hindus and the Muslims. With the famous Dargah Sharif, the tomb of a respected Sufi saint, large numbers of tourists throng Ajmer during the annual Urs fair. The entire city comes alive with the festivities. Ajmer Dargah is believed to fulfill the wishes of the people. The city was built by Raja Ajay Pal Chauhan in the 7th century. Even in this era of religious intolerance, several religions live in harmony in Ajmer.

Yet another attraction in Ajmer is the Mayo College built by the British meant only for the Indian nobility. The city is also a good base for visiting Pushkar, 11 kilometers off Ajmer. Ajmer provides shelter to the numerous visitors who flock to Pushkar during the famous Pushkar Fair.
Reaching There

Jaipur airport is the nearest from Ajmer City. It is about 135 kilometers off Ajmer. Ajmer is connected by a network of regular trains from Delhi, Jaipur, Ahmadabad and Agra. In addition, Ajmer is also well-connected with a dense network of buses.
Travel Details (Mandatory)
Get a free quote