Sariska National Park, Jaipur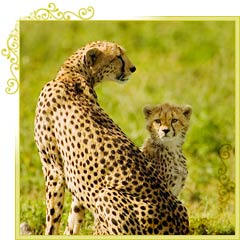 Location : Alwar, Rajasthan
Best Time To Visit : October to April
Highlights : Tigers and Old Temples
Sariska National Park is one amongst the most visited parks of India. Nestled in the Aravali ranges, the park covers an approximate area of 800 square kilometres. Dry deciduous trees dominates its rocky landscape. Whether its camel safaris or shopping in the nearby places or visiting medieval monuments, Sariska Tiger Reserve has it all. You can take your pick.

The park was once the hunting reserve of the royal family of Alwar. In the year 1958, the reserve was given the status of a wildlife sanctuary. In 1979 it came under the "Project Tiger" as a tiger reserve. Jeep safari is the best way to explore the Sariska National Park.
The Sariska National Park acts as a home to Tiger, Leopard, Chitel, Hyena, Sambhar, Nilgai, Jungle Cat, Chausingha, Jackal, Wild Boar, Wild Dog and Langur. A large population of Rhesus Monkeys can also be seen in the park.
Several species of birds found in Sariska Tiger Reserve include Peafowl, Bush Quail, Crested Serpent Eagle, Sand Grouse, Tree Pie, Grey Partridge and the Great Indian Horned Owl.
Sightseeing
Kankwari Fort is a historic structure located inside the Sariska National Park. Emperor Aurangzeb had imprisoned his brother, Dara Shikoh, inside this fort once. The ancient Neelkanth Temples built inside the Sariska National Park are a must visit. These temples were built around the 10th century and are devoted to Lord Shiva. The Sariska Palace was constructed inside the park by the Maharajas of Alwar. Once functioning as a palace, it has now been converted into a hotel and is an excellent place to stay inside the sanctuary in luxury.
Sariska National Park allows you to explore the ancient monuments besides the wonders of nature and the unique wildlife that it offers.
Travel Details (Mandatory)
Get a free quote