Urs Fair, Ajmer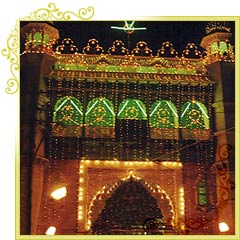 Urs fair of Ajmer Sharif (holy Ajmer) is held in Ajmer, Rajasthan. The earthborn remains of the venerated Saint Moin-ud-din Chishti are buried at Dargah Sharif in Ajmer. Above 5 lakh pilgrims from different parts of India and abroad flock at the Dargah to pay homage to the saint on his death anniversary each year. Both the Dargah and Urs are revered by people of all religions. The Urs fair is organized during the seventh month of the Islamic calendar.
The Saint came from Persia and dedicated his life to the service of the poor and the downtrodden. He died peacefully in complete solitude.
During Urs, entire Ajmer is adorned with buntings. The celebratory spirit dominates the atmosphere of the city. Festive mood in Ajmer continues with numerous programmes organized to mark the celebrations. Mehfils (religious assemblies) are organized and qawwallis (songs in the praise of the saint) are sung each night. These celebrations bring together the people of different faiths who gather around to enjoy the festivities at the fair.
At the tomb of the saint the pilgrims make rich offerings (nazrana) including rose and jasmine flowers, perfumes and sandalwood paste. Chadar, neema and ghilaph are also offered in gratitude at the tomb.
Rituals
The Urs begins when a white flag is hoisted at the Dargah by Sajjada Nashin (successor representative) of Chishtis. The tomb is washed with rose water and then covered with an embroidered cloth in silk. This ritual is called 'Ghusal'.
Looting the kheer (milk-pudding) is another ritual observed during the Urs. The kheer is cooked and then distributed amongst the pilgrims as special food.
Fatiha and Salamti are read on the last day of Urs. Bursting of crackers accompanied by music marks the end of Urs fair that is also symbolic of India's religious diversity.

Travel Details (Mandatory)
Get a free quote