Nagaur Fair, Nagaur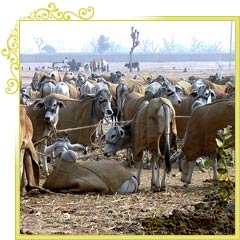 Popularly known as the cattle fair, Nagaur Fair is the second largest fair in Rajasthan. The Nagaur fair is organized in Nagaur during the month of January-February each year. The fair continues for eight days. The bustling activities of the people here brightens the small town, Nagaur. Trading of livestock takes place in huge numbers at the fair. People bring their cattle for sale from far off places. These cattle are sold at quite high prices. One can observe the most handsome pedigree horses and fit camels and cattle over here. Not only the owners flaunt wearing colourful attires and turbans but their animals are also decorated beautifully and brilliantly.
Nagaur Fair attracts tourists from all corners of the world. Numerous people with their cattle flock to the fair ground from all over Rajasthan and from outside the state too. Several sports and events organized during the fair include tug-of-war, horse races, camel races and jugglers. Other activities that entertain the tourists are bullfights and cockfights. Sale of jewellery, leather and iron accessories compile other attractions at the fair.
The Nagaur fair is an opulent extravaganza of fun and joy. The folk music and dance that enhance the evenings of the fair echo far and wide across the desert sand.
Mirchi Bazaar or the Chilly Market is a unique attraction of the Nagaur fair. It organizes the largest chilly market of India. Tourists can have a gala time over here and go back with unforgettable memories of the Rajasthan holiday.
Travel Details (Mandatory)
Get a free quote