Sheetla Mata Fair, Jaipur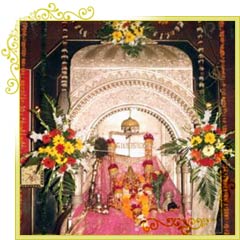 The Sheetla Mata Fair is held every year in Seel-ki-Doongri village situated nearby Jaipur. It is organized during the March-April period during Krishna Paksh. The fair lasts for a day and is devoted to the highly respected goddess Sheetla Mata. It is believed by the people in Rajasthan that epidemics spread due to the wrath of this deity. So, in order to pacify her, devotees make several offerings. The shrine of Sheetla Mata is situated on the top of the hillock Doongri.
The fair attracts people from far off lands. A temporary colourful market springs up at the fair where people from rural areas trade in wares like clothes, utensils, foodstuff, shoes and agricultural implements. During the fair, a cattle fair is also organized.

The village Seel-Ki-Doongri lies beside a tank, Band Sheodungri on the national highway-8. Chaksu is the nearest rail head and regular buses are available on the Jaipur-Deoli, Jaipur-Kota and Jaipur-Tonk routes.
The Sheetla Mata fair is colourful and has several events that attract tourists from far and wide.
Travel Details (Mandatory)
Get a free quote