Dargah Sharif, Ajmer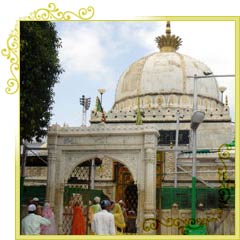 The Dargah Sharif in Ajmer, Rajasthan is the place where highly respected saint Khwaja Moin-ud-din Chisti has been entombed. It is the most sacred shrines of the Muslims and is equally holy for the Hindus. The saint came from Persia and dedicated his life to the service of the poor and the downtrodden. It is believed that he lived for 114 years and died in complete solitude. The Dargah Sharif has been truly blessed by the saint.
The architectural style of Dargah Sharif reflects purely the Mughal style of architecture. All Mughal rulers from Humayun to Shah Jahan have made modifications in the structure. The gate of the Dargah has massive doors made in silver. A silver railing, a gold plated dome and a screen made in marble surrounds the tomb. The Dargah Bazaar that lies outside the building is quite vibrant and colourful.
Urs fair is held every year at the Dargah. Above 5 lakh pilgrims from different parts of India and abroad flock at Dargah to pay homage to the saint on his death anniversary. The pilgrims make rich offerings called nazrana that includes rose and jasmine flowers, perfumes and sandalwood paste. Chadar, neema and ghilaph are also offered at the tomb. It is believed that those who pray here sincerely are always rewarded.
Festive mood in Ajmer continues with numerous programmes organized to mark the celebrations. Mehfils (religious assemblies) are organized and quwwallis (songs in the praise of the saint) are sung at night. Reading of the Salamati and bursting of crackers marks the end of the festivities of the fair. Dargah Sharif is the major landmark in Ajmer. A visit to the Dargah Sharif offers the visitors food for the soul.

Travel Details (Mandatory)
Get a free quote