Banganga Fair, Jaipur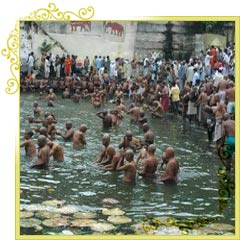 The Banganga Fair is organized every year in town Bairath that lies in Jaipur district. The fair is held on the day of full moon in the month of April-May (Hindu month of Vaisakh). The Banganga Fair is an event of great historical importance. The lake at Banganga is believed to be created by Arjun, one of the five Pandavas. Because of this very reason the stream is considered to be sacred.
Therefore, visitors from far off places come to visit Banganga Fair, take a bath in the lake and seek blessings at the nearby holy sites. People from places like Alwar, Jaipur, Behror, Bharatpur flock to the fair ground.
Besides the pilgrims who come to pay homage, traders from far and wide can also be seen here. They come to sell their wares including simple rural ornaments, household goods and toys. Buying and selling, thus, forms a major part of the Banganga Fair. Apart from those who come to the fair for pilgrimage, traders of different communities arrive at the fair to sell their wares. The articles sold range from simple rural ornaments to toys and household items. The buying and selling adds to the atmosphere and to the hustle and bustle of the fair. Both children as well the adults enjoy the giant wheel and merry-go-rounds rides at the fair.
Rituals
early in the morning, devotees crowd at the Shri Radha Krishnaji temple. They take bath in the Banganga river so as to wash off their sins and purify their soul. The shrines in near vicinity – Shiva temple, Hanuman temple, Ganga Bihari temple and Math of Goswamiji are also popular among the tourists.
If you are somewhere in the striking distance, do not miss the opportunity to visit the Banganga Fair.
Travel Details (Mandatory)
Get a free quote