Shopping Rajasthan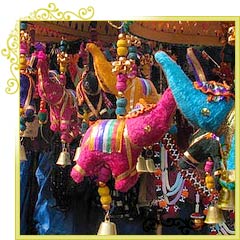 Rajasthan enfolds in its lap a varied variety of fascinating artifacts. The range is sophisticated yet simple. The beauty of these products is unparalleled. The age old traditions and conventions reflect through the products that are available in the colourful bazaars of Rajasthan.
Rajasthan is often referred as the "Shopper's Paradise". As you walk along the markets, you will notice the vibrant bazaars of Rajasthan have something to cater to the taste and pocket of every kind of traveler. The vast variety of arts and crafts offers a visual treat to the eyes. Each product is meticulously designed and intricately finished. They capture the senses of all the travelers who explore the markets of Rajasthan. The entire markets glow with colours.
Blue Pottery
Blue pottery originated in Persia. Jaipur is the home to the development of blue pottery in India. This form of pottery does not include the use of clay and is one in its own kind. These products are ready to be picked and attract numerous shoppers.
Furniture
The furniture that is available in the markets of rajasthan is quite elegant. Intricately carved and traditionally decorated chairs, tables and chests will add a royal feel when placed in your own home. It decorates your home no less than a haveli.
Jewelery
The jewelry designed in Rajasthan is famous world over. The craftsmanship is highly appreciated in the world wide. Rajasthani women have immense love for jewelery in silver. Highest quality of jewelery in gold s also available in the markets of rajasthan. Jewelery is also worn by Rajasthani men.
Leather Ware
The popular leather ware available in the markets of Rajasthan are designed and developed both by Rajasthani men and women. The tanning and cutting work is assigned to the men while the work of embroidery and decoration is carried on by the womenfolk. The designs vary according to the region of production of the article.
Metal Ware
Artistic brassware and cut work on silver, comprise of the metal ware. Metal ware is available in different shapes that tend to attract the visitor.
Paintings
Paintings available in Rajasthan are more vibrant than those in any other state. Rajasthani paintings not only catch the eye but they even touch the soul. Both folk and miniature style of painting are famous world over for their theme,composition, treatment and color scheme.

Textiles
A fascinating range of Rajasthani textiles in bright colours is available in the markets. Fabrics in block prints, tie and dye are quite common in Rajasthan.

The array of goods spilled in the markets of Rajasthan are simply a steal. Explore the world of artisans while you shop in Rajasthan.
Travel Details (Mandatory)
Get a free quote