Karni Mata Fair, Bikaner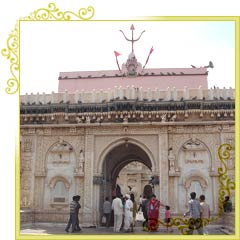 The Karni Mata Fair is held twice every year in town Deshnok in Bikaner City. The fair is organized first in March-April and later in September-October. The fair is dedicated towards Karni Mata, highly respected among the people of Rajasthan. Numerous visitors come from different places to pay homage to the deity held in her honour.
It is believed that the Goddess Karni Mata possess supernatural powers. Through the use of these powers she did miracles to uplift the condition of the poor. She helped the needy in every possible way, one of them being restoring eyesight for the blind people. She was equally bad to those who harmed her as good she was to the poor and needy.

The Karni Mata Temple is built all in marble and an image of the deity in yellow sandstone is placed inside the temple. The statue adorned with jewellery and flowers looks absolutely stunning. The numerous brown rats found in the temple is its most unique feature. These rats are worshiped by the pilgrims. It is considered lucky to spot a white rat amongst the several brown ones.
Travel Details (Mandatory)
Get a free quote