Rajasthan Music and Dance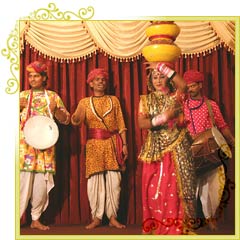 Rajasthan has a treasure of music and dance that has constantly been enriched by the traditional heritage of the state. The melody and the beat of the Rajasthani music hypnotizes the visitors. These traditional music and dance performances are still the major highlights of the cultural nights. These bring alive the grandeur of the past era and also speak of the spiritual heritage of Rajasthan.
Flowing With the Beat
Melodies of Sarangi or Shahnai, sounds of Manjeera, beats of Khartal or Dhol, enliven the entire aura of the Desert Land. The song performances and the melodious music complement the grace of the Rajasthani folk dances namely Ghoomar, Gair and Sapera. The folksongs narrate the tales of romance, chivalry and tragedy of the kings of yesteryears. Music and dance form an inseparable part of the rich and imperial heritage of Rajasthan.
Mind-blowing Dancing Skills
The extraordinary dancing skills of the Rajasthani dancers do not ever fail to mesmerize the viewers. The unique performances of the fire dancers take you aback. These dancers sway their bodies over the bed of flaming coals on the rhythm of the drum beats. The viewers are fascinated by the immense talent of these dancers. Bhavai is another unusual dance form. Here the veiled dancing woman balances nine brass pitchers over her head while she dances on the edge of the glass. Some other captivating forms of folk dances include Terah Thali and Ghoomar.
Enhancing the Dancing Ambiance
Bright attires and dazzling ornaments of the Rajasthani people add grace to the already colourful dances of Rajasthan. The long embroidered skirts with colourful dupattas and beautiful neck pieces and bangles that revolve along with the bearer during performing Sapera (snake) dance, mesmerize the visitor. The sight is so fascinating that people even forget to blink their eyes! Jewelry set with precious and semi-precious stones also adds to the grace of the dance. The men do not lag behind either. They are traditionally dressed in frilled and embroidered jackets accompanied by brightly coloured turbans. The overwhelming participation of the viewers makes the dancing ambiance quite cheerful.
Music and dance forms an inseparable part from the culture of Rajasthan.
Travel Details (Mandatory)
Get a free quote