Hawa Mahal, Jaipur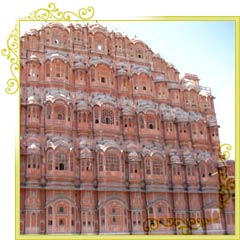 Hawa Mahal, the Palace of Winds, is the most easily recalled landmark of Jaipur. The best time to see Hawa Mahal is at sunrise when sunlight from the Jharokhas (latticed windows) settles gingerly outside the monument. The sight fascinates one and all.
The Hawa Mahal is a multi layered palace that was constructed by Maharaja Sawai Pratap Singh in 1799. The five storey beehive like structure has a series of corridors with 953 latticed windows overlooking the busy bazaar street. The monument is built all in red and pink sand stone, carefully outlined with white borders. The Hawa Mahal was basically built to enable the womenfolk watch life and processions in the city.

The walls of the interiors of Hawa Mahal are carved out exquisitely. The windows have intricate lattice work with motifs enhancing their beauty. Cool air enters through these windows even during summer and keeps the entire palace ventilated.
One can enter the Hawa Mahal from the side of the City Palace, through an imposing door opening into a broad courtyard. The courtyard houses a small archaeological museum, popular amongst the tourists visiting from far and wide. Most tourists come here to get a view of the facade of Hawa Mahal. A beautiful view of the city can be seen from the latticed windows upon climbing up.
The Hawa Mahal is an example of the stunning Rajput architecture and is also greatly influenced by the Mughal style. Come to the Pink City and view closely the Hawa Mahal that glows like an impalpable dream.
Travel Details (Mandatory)
Get a free quote