Urs Galiyakot, Udaipur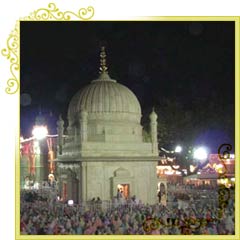 Urs at Galiyakot is celebrated on the 27th day of Moharram in the first month of the Islamic calendar. The fair is held in the memory of the highly respected Saint Sayyed Fakhruddin. The festivities are followed by special ceremonies.
Galiyakot is a small village situated in the Dungarpur District of Rajasthan. The place holds significance primarily for Dawoodi Bohras (a sect of the Ismaili Shia Muslims). Devotees from far and wide flock to the memorial of the great saint during the fair. Pilgrims come here not only from India but abroad as well. They offer prayers and pay homage to the Saint and seek his blessings. They offer coconut, jaggery, sweets and fruits. They pray at the tomb to get their wishes fulfilled. These prayers are known as mannat. Once the wishes are fulfilled, the devotees come back to thank the Saint for his blessings.
Before the beginning of the fair, the tomb is adorned with flowers and lightened up with lamps. Before the ceremonies start, a mass prayer is held and the Holy Quran is recited. In the Majlis, a devotional gathering, songs are sung in the praise of the Saint. Dai-Ul-Mutlaq, the religious head of the gathering leads all the ceremonies.
Travel Details (Mandatory)
Get a free quote