Wildlife Sanctuaries Rajasthan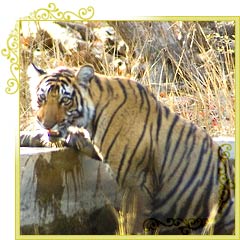 The unconventional beauty of the desert land − Rajasthan, charms even the most seasoned traveler. Apart from the magnificent monuments and colourful bazaars, Rajasthan is rich in wildlife too. It draws wildlife lovers and adventure enthusiasts in hordes to visit the national parks and the wildlife sanctuaries of Rajasthan. Several tourists come here each year.
Rajasthan is famous world over for three national parks and some wildlife sanctuaries as well. The visitors can visit them during any time of the year except the monsoon as the parks remain close during that period. These parks and sanctuaries display a variety of beasts and birds, flora and fauna. The excitement that the wildlife tours in Rajasthan offers is unbeatable.
The national parks in Rajasthan are inhabited by a variety of animals and birds. Even the rarest of the species are found in Rajasthan. Make sure that you do not miss even the smallest adventure in the dense jungles. Visit the Ranthambhore National Park where tigers can be seen in large numbers. The park also houses some other animals. The park is a wildlife lover's delight. The best way to explore the rich wildlife of the national park is through a jungle safari. We assure you that this experience will remain graven in your memory for a lifetime.
The Keoladeo Ghana National Park, far famed as Bharatpur Bird Sanctuary is also visited by a number of tourists from the distant lands each year. Take a rickshaw ride or indulge in a nature walk, the park is just the best place you can find. The variety of resident and migratory birds found here offer a delight for the bird lovers.
Yet another prominent wildlife sanctuary in Rajasthan is Sariska Wildlife Sanctuary. It is a tiger reserve and houses the royal Bengal Tiger. It is a home to other varieties of animals as well.
The most famous Wildlife Parks of Rajasthan which are popular among tourists are:
Ranthambhore National Park
Ghana National Park
Kumbalgarh Wildlife Sanctuary
Desert National Park
Darrah National Park
Sita Mata Sanctuary
Mount Abu Sanctuary
Hold your breath ! A trip to the national parks in Rajasthan will take your breath away. From knowing about the history of the park to getting familiar with its rich fauna in their natural habitat, there is a lot to do. Adventure and animal lovers are recommended not to miss the opportunity to witness the varied wildlife seen in Rajasthan.
Travel Details (Mandatory)
Get a free quote