Jag Mandir, Udaipur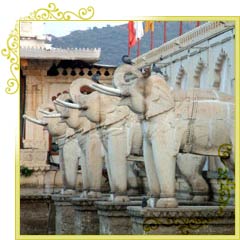 Located on the Lake Pichola, Jag Mandir in udaipur is a beautiful island palace. The palace was constructed Maharana Karan Singh in marble and yellow sandstone. The palace was built in the 17th century so as to function as a as a place for Prince Khurram (fondly called Shah Jahan) to hide. It is believed that Shah Jahan got several ideas from the striking architecture of Jag Mandir Palace during his stay, for building the world famous Taj Mahal.
In the later years, the Jag Mandir Palace was renovated by Maharana Jagat Singh. The credit of the majestic palace as it is today goes to Maharana Jagat Singh who had made several additions to its architecture. The palace derives its name from the temple dedicated to Lord Jagdish, it houses.
Gul Mahal inside the Jag Mandir Palace is the major highlight of the palace. Shah Jahan lived with his family inside the Gul Mahal. It is constructed following the Muslim style of architecture keeping in mind the personal taste of Shah Jahan. The interiors of the hall are done up beautifully. Inside the complex of the palace there is a mosque. The courtyard of the palace is decorated with black and white tiles.
Other palatial structures that the palace houses include Kunwar Pada ka Mahal, Zenana Mahal and Bara Patharon ka Mahal. Gardens adorned with rose and jasmine flowers and palm trees look absolutely splendid.
The magnificent Jag Mandir Palace also houses a museum where the detailed history of this island is preserved. A series of eight elephants sculpted in white marble stand majestically at the entrance of this palace. The sight is simply breath-taking. The Jag Mandir Palace is a place one should not miss to explore.
Travel Details (Mandatory)
Get a free quote