Rajasthan Handicrafts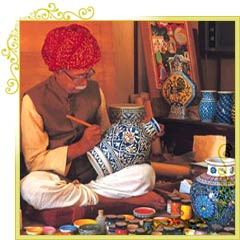 Rajasthan is known for its handicrafts the world over. The activity of art and craft continues in Rajasthan from a very early period. The tradition of the bygone era is still preserved in Rajasthan. As a result of this on-going tradition, the state is successful in creating products that are simply irresistible. Tie and dye fabrics, wood carving, paintings, pottery and finely cut precious and semi-precious stones are some of the characteristic handicrafts of Rajasthan.
The carpets made in Rajasthan are in great demand amongst the visitors. The hand knotted carpets of Jaipur, Bikaner and Tonk made in wool like the Persian carpets are simply mind blowing. The cotton durries available in pastel shades are the highlight of shopping in Jaipur and Jodhpur.
Yet another interesting form of the Rajasthani art is the Rajasthani paintings. These are also called the Phad paintings. The distinctive treatment, colour scheme and composition used in the miniature paintings and the folk paintings make them unique pieces of art. These paintings depict the hunting scenes that remind one of the glorious past of Rajasthan. Use of lively colours and fine lines is a characteristic feature of these paintings. These beautiful paintings catch the attention and touch the soul.
Not to forget the mention of the wall paintings that adorn the walls of the havelis and the palaces. Visit the havelis of Shekhawati region and towns like Bundi, Jaisalmer and Kota to see the finest of the wall paintings made in Rajasthan.
The textiles designed in Rajasthan are very popular amongst the tourists visiting Rajasthan. A variety of textiles that come in tie and dye, embroidered and block printed designs are the most popular ones. Textiles in bright but different colours and patterns are found in different regions of the state. The tie and dye textiles are popularly known as bandhej. These fabrics can be tied in different ways to bring about different patterns such as mothda, lehariya, shikari and ekdali. The best bandhej comes from Jodhpur and the best hand block printed textiles from areas near Jaipur.
The typical Rajasthani tradition of art and crafts that continues for years now has its own contribution in making Rajasthan a popular tourist destination on the world map. The variety of handicrafts in the vibrant markets of Rajasthan is a feast for the eyes of the visitor.
Travel Details (Mandatory)
Get a free quote