Heritage Hotels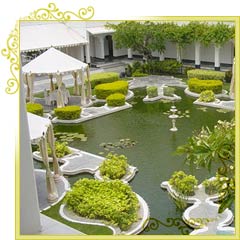 The 'Land of Kings' - Rajasthan is renowned world over for its heritage hotels. The state houses maximum number of Heritage Hotels in the country. Rajasthan is far famed for its royalty. The palatial structures of the Heritage Hotels reflects the love for beauty and luxury amongst the Kings and the Queens of the bygone era.
A stay at any of the Heritage Hotels in Rajasthan goes far beyond spending just a simple vacation. The experience of living a lavish and regal king-like lifestyle will remain etched in your memory forever. It is one in its own kind.
The Heritage Hotels, amidst the golden sands of the vast desert, are a living testimony to the grandeur of yesteryears. Once famous as forts, havelis and palaces, the structures have now been converted into Heritage Hotels. Each of the structure has been beautifully done up and meticulously planned to lend the guest an true feel of the land. The guest experiences warm hospitality throughout the stay. The host families make the visitor comfortable and look after even the smallest of their needs during their stay.
The welcome is equally regal as is the stay. Personal attendants greet you at the entrance. Blowing trumpets and decorated elephants further add a touch of royalty. As the visitor enters and walks through, the decor and the interiors of the hotel bowl him over. It feels as if the past glory has come alive and one has landed in the bygone era.
Some of the most famous heritage hotels of Rajasthan where you can feel the opulence and glory of royalty are:
The age-old conventions are perfectly blended with the modern day comforts. Come with us and taste the regal textures at the Heritage Hotels in Rajasthan!
Travel Details (Mandatory)
Get a free quote