Bikaner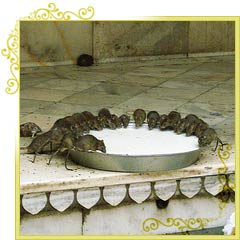 The Bikaner city is popularly known as the camel country. Bikaner is famous world over for its best camel rides and boasts of housing one of the largest camel research farm in the world. The camel plays an important role in the routine lives here. The "Bikaji Bhujia" (a spicy snack) and "Sweets" available in Bikaner are savored throughout the globe.
The tiny place was founded by Rao Bikaji. It has now transformed into a big city with several architectural wonders of the Rajput civilization. The magnificent palaces and old havelis attract tourists to Bikaner. In addition to these, there is a museum that displays wonderful miniature paintings. Temples designed in red and yellow sandstone never fail to fascinate the tourists. The Deshnokh Karnimata Temple is a popular pilgrimage in this region.
A visit to Bikaner is best planned between October – March. Numerous visitors throng in Bikaner during the Camel festival organized in January every year. Festivals accompanied by music and dance add color to the city. Do not miss the adventure of a desert safari during your trip to Bikaner, Rajasthan.

The miniature paintings of Bikaner are distinguished by their unique style. They reflect the skilled craftsmanship of the Rajputs and remind one of the by gone Rajasthani culture.
Reaching There
Jodhpur airport is the nearest airport situated at a distance of 235 kilometers from Bikaner. Bikaner is connected with regular trains from Delhi, Jodhpur, Kalka, Jaipur, Bhatinda and Howarh (Kolkata). A navigable network of roads connects Bikaner to all the major cities of India.
Travel Details (Mandatory)
Get a free quote