Pushkar Fair, Pushkar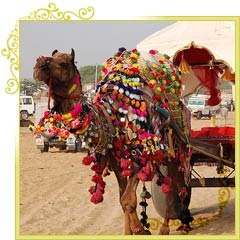 On the occasion of Kartik Purnima (full moon) in November each year, Pushkar Fair is organized in Pushkar, near Ajmer. The fair is a great crowd puller. The devotees worship, bathe in the Pushkar Lake and shop at the numerous stalls that come for the fair. Camels and cattle are beautified to be sold at this world's largest camel fair. Men and women can be seen tattooing different parts of their body.
Pushkar Fair has a magic of its own. It is so popular world over that it has been featured in several travels shows and mentioned in numerous magazines.
Village folk dressed in bright attires add to the pomp and show of the fair. Flavourful Rajasthani delicacies are available for gourmets to enjoy. Festive mood gets exhilarated with a new show of folk dance and music performed every evening. It leaves the crowd applauding and roaring.
Rituals
The Pushkar Fair continues for five days. This period despite being the busiest for the locals is accompanied by merry-making. People gather at this fair each year in large numbers from all over the world due to its spiritual significance as well as the fun quotient. Brightly dressed Rajasthanis bring along with them traditionally decorated camels which are sold in huge numbers during Pushkar Fair. Camels look stunning with silver bangles around their ankle and pierced noses.
Races and competitions dominate the scenario. An interesting event is the camel beauty contest, where they are adorned and then paraded before the crowd. They seek attention and appreciation from the visitors who behold their breath at the beauty of this sight. Then there are Camel and Horse races that are equally enjoyed by the animal lovers and other visitors as well.

According to a popular belief, Gods visit Pushkar City to bless the devotees during all the five days of the fair. Consequently, a number of pilgrims flock to Pushkar to wash away their sins and seek the blessings of the Gods.
Pushkar Fair is one in its own kind across the globe. Visiting the fair is an experience of a lifetime. Come November, join us at Pushkar Fair to enjoy an event that is truly a feast for the eyes.
Travel Details (Mandatory)
Get a free quote