Lake Palace, Udaipur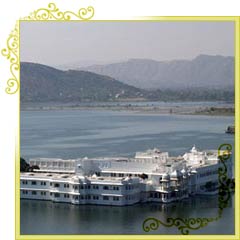 Lake Palace is a globally famous heritage monument of Udaipur in Rajasthan. The Lake Palace is located on the Jag Niwas Island, floating in the middle of Lake Pichola. Constructed by Maharana Jagat Singh in 1743, the Lake Palace covers about 1.5 hectares of the total area on the island. It is built in white marble. Earlier a royal summer palace, the Lake Palace now functions as a heritage hotel.
The magical palace fascinates even the most seasoned traveler with its charm. The image of the monument set amidst the lake seems no less than a picture that comes out of a fairy tale. The intricate craftsmanship and the ethnic themes enhance both the exterior and the interior beauty of the palace which is beyond compare. The pleasant sound of rippling waves of the lake creates mesmerizing moments that the visitor remembers for a long time.
The courtyards of the Lake Palace are lined with columns, pillared terraces, gardens and fountains that add to its beauty. The erstwhile kings held their royal durbars in these courtyards. Shimmering in the middle of the turquoise waters of Lake Pichola, the Lake Palace is one of the most beautiful monuments of the world.
Travel Details (Mandatory)
Get a free quote