Kota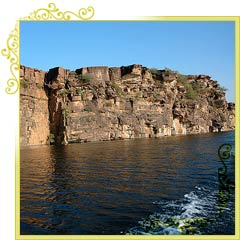 Kota is located along the banks of Chambal River. In the early years, Kota was a part of Bundi. It separated from Bundi in the 17th century. Since then, Kota has been recognized as an independent state.
At present, Kota is a regional army headquarter. It has developed phenomenally over the years and has become a major industrial centre of Rajasthan. It is home to the largest fertilizer plants of Asia.
Apart from being an industrial centre, Kota is renowned for Kota Doria Saris as well as the Kota School of miniature paintings. The Kota Doris Saris are made either of cotton or silk. The designs on them are made in delicate golden thread. These saris are woven in a village, Kethun which is in near vicinity from Kota. The paintings made in the Kota School, portray details of hunting excursions in the dense forests around Kota. These paintings are vivid and display even the minutest details.
Reaching There
Jaipur airport which is 250 kilometers away from Kota is the nearest airport. Kota is located on the National Highway 12. The town is well connected to the main cities of Rajasthan by a network of roads. Trains from Mumbai, Delhi, Bharatpur, Agra and Jaipur are available to Kota. The railway station lies a few kilometers away from Kota.
Travel Details (Mandatory)
Get a free quote