Palace on Wheels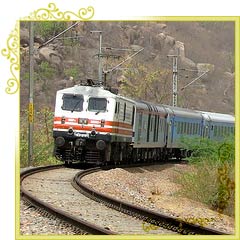 Recapture the glory of the royal past in a truly royal style during the journey on the Palace On Wheels. Though times have changed, the Palace on Wheels still offers a splendid royal journey. Enjoyed by the erstwhile kings of a bygone era, it is a one of a kind journey that is now available to all. Palace on Wheels has been judged among the ten best luxury train journeys of the world.
Palace on Wheels has traditional aesthetics yet modern comforts. It has everything that makes it a heavenly experience in the travel planet. It offers an unforgettable travel experience. Palace On Wheels has deluxe cabins, a well stocked bar, restaurants, wall to wall carpeting and some personalized services too.
The Palace on Wheels houses 14 fully air-conditioned luxurious saloons. Each one of them is equipped with modern amenities that add to the pleasure of traveling. Approximately, 100 passengers can enjoy the train ride at one time.
The Coaches:
There are 14 coaches, each named after the former Rajput states. A mini pantry and a lounge are present in each saloon. Book lovers can pick one from a collection of books offered n every coach.
Rooms:
There are 14 deluxe saloons in the train. Each room is fully air-conditioned with four double bedded chambers. Facilities such as channel music, attached toilets, intercom, showers, running hot and cold water, wall to wall carpeting are present in all rooms.
Restaurants:
The train is justifiably proud of its two grand restaurants. These two lavish restaurants, The Maharaja and The Maharani provide the perfect Rajasthani ambiance for an evening of fine dining. Explore the finest of Continental, Chinese, Indian and Rajasthani cuisines, serving an array of delicious culinary delights.
Bar:
The train has a well stocked bar that keeps travelers in high spirits. It serves the best of spirits from India and abroad. It invites you to enjoy time at a leisurely pace.
Facilities:
The Palace on Wheels is refurbished from time to time. The interiors of the saloons and the bar have been upgraded recently. Each saloon lounge has a color television, a satellite phone and a CD player.
A journey on the Palace on Wheels is undoubtedly a journey for a lifetime. It is the best way to explore the stately splendor of Rajasthan.
Travel Details (Mandatory)
Get a free quote