Devigarh Palace, Devigarh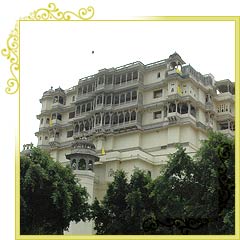 The Devigarh Palace that has now been transformed into a heritage hotel offers luxury at its best. It was built in the 1760s. It was awarded to Sajja Singh to mark his loyalty to Maharana Pratap. The structure was absorbed into the state in the 19th century and was abandoned later. Functioning as a heritage hotel at present, it has been restored thoroughly and makes available all the luxurious amenities to its guest.
Accommodation in Devigarh Palace
There are 23 suites in all at hotel Devigarh Palace. All of these are furnished with royal furnishings that match the regal decor of the rooms. All the modern facilities are available. Each suite has its own Dining Area, Refrigerator, Television with satellite channels, Bathroom with Bathtubs and Showers, Telephone and Air-conditioners. Those who love adventure can stay at the tents that the hotel houses. There are 6 tents in all.
The rooms being a separate living unit ensure the safety and privacy of the guests. In case of any assistance, the staff is always there to serve the guest. In addition to these, the recreation facilities include an in-house museum, a shopping arcade, swimming pool, camel safaris and a fitness center.
Dining at Devigarh Palace
Devigarh Palace has dining befitting its status of a luxury hotel. Not only cuisine from across the country but also from the whole of Asia, Italy and Thailand are served here. A menu for the calorie conscious also exists. The hotel serves an assortment of liquor too.
The guests can enjoy their lunch in their very own rooms. But if they dine at the restaurants, they can explore the entire palace as they have an excellent view of the beautiful interiors of the hotel.
The endless recreation available at the Devigarh Palace makes it a great place to spend a laidback vacation. The heritage hotel till date retains its old world charm.
Travel Details (Mandatory)
Get a free quote