Umaid Bhawan Palace, Jodhpur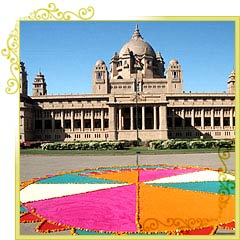 Considered to be one amongst the largest private residences in the world, the Umaid Bhawan Palace is spread over 26 acres of lush green gardens. The last great palace constructed in India, derived its name much after the grandfather of the present king of Jodhpur, Maharaja Umaid Singh. The grand monument made entirely of golden-yellow sandstone, took 15 years to complete.
Umaid Bhawan Palace was designed by known Edwardian architect Henry Lanchester in art deco style. The architecture reflects a dramatic blend of the eastern and western architectural styles. It served as the home to the royal family of Jodhpur. At present, it is one of the finest hotels in Rajasthan.

Accommodation in Umaid Bhawan Palace
Guests can relax at the one of the largest palace hotels with 64 luxurious rooms including suites. There are 25 rooms and 39 suites equipped with all the amenities that suit a modern lifestyle. All the rooms have Art Deco interiors. Facilities such as plasma television, a mini bar and DVD players are available in the rooms. Other recreational facilities in the hotel include Spa, Indoor Swimming Pool, Squash courts, Holistic Healing, Polo, Horse riding and Tennis. Palace Museum is a major tourist attraction inside the palace.

Dining at Umaid Bhawan Palace
Risala offers the best of Continental cuisine and delicious Indian delicacies. The guests can choose to spend relaxed evenings at the coffee shop, The Pillars. The Trophy Bar offers the choicest spirits and beverages.

Indulge yourself in a luxurious lifestyle at Hotel Umaid Bhawan Palace which offers unparalleled comfort.
Travel Details (Mandatory)
Get a free quote