Phalodi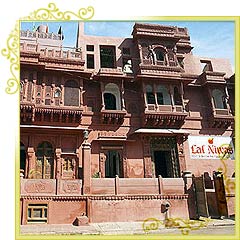 Phalodi is located in between the cities of Jaisalmer and Jodhpur. Phalodi is famous for its salt business, rich history, exquisite temples and artwork. The place is considered a paradise for bird lovers. Several migratory birds gather at this place. Watching these birds performing different activities across the sand is a great experience. Though Phalodi is a small village, it is worth visiting once.
A major place of tourist interest in Phalodi is Lal Niwas. The construction of Lal Niwas was done in the year 1750. Like the name suggests, the haveli is built entirely in red sandstone. This palace once functioned as a residence of the affluent and royal families. The interiors of this haveli are stunning. Walls ornate with artifacts, massive chandeliers and weaponry take one back into the regal past of the state.
Reaching There
Jodhpur airport is the nearest one. It is just 135 kilometers away from Phalodi. The railway station is just 1.5 kilometers away from Phalodi. Regular trains from Delhi, Jaipur, Jaisalmer and Jodhpur are available. Phalodi is connected from Delhi, Jodhpur, Nagaur, Mumbai and Bikaner by a navigable network of roads.
Travel Details (Mandatory)
Get a free quote