Luni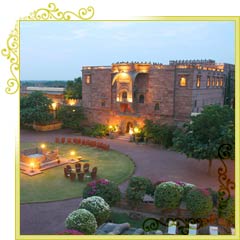 Luni is a small charming village that reflects the regal past of Rajasthan. The traditional profession of metal carving and wood carving are pursued till date by the artisans in Luni. This bustling village is located at a distance of 35 kilometres off Jodhpur. A number of tourists visit this village to see its forts.
Fort Chanwa is the major highlight of the typical Rajasthani village, Luni. The architecture of the fort is elegant and greatly appreciated by the visitors. The fort is carved out all in red sandstone. The structure of the fort reminds one of the grandeur of the yesteryears. The skill of the craftsmen reflects through the paintings that adorn the walls of the fort. The charm of the fort is retained till date and the property is managed by Maharaja Dalip Singhji and Rani Madhu, his wife.
Jodhpur airport is the nearest from Luni. The nearest rail head too is located at Jodhpur. It connects Luni to all the important cities of the country. Taxis and buses to Luni are easily available from Jaipur and Jodhpur.
Travel Details (Mandatory)
Get a free quote