Sikar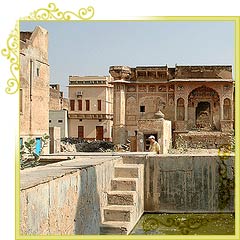 Sikar was the largest Feudal State under Jaipur. Sikar was founded in the 17th century. Sikar is known for its splendid forts and an array of magnificent havelis. The beauty of the temples in Sikar is also a class apart. These temples are adorned with beautiful frescoes. The large and busy markets of Sikar are famous for the colourful tie and dye fabrics. The market place is dominated by the Clock Tower.
Out of the array of splendid havelis present in Sikar, one is painted all in blue. It is a great tourist attraction. Other attractions are Sagarmal Sodhani Haveli, Jubilee Hall and Madho Niwas-Kothi. Then there are temples of Raghunath, Madan Mohan and Gopinath which are also a must-visit while you are in this region of the state. Harsh Nath Temple and Jeen Mata Temple are attractions located in the nearby areas.
Shri Shyamji Temple is a popular temple of Sikar. It is constructed in white marble. The temple witnesses the famous Khatu Shyamji Fair held every year. Several pilgrims gather in Sikar to visit the temple. The crowd increases manifold during the fair.
Reaching There
J.K. Gram, Kankroli and Dabok airports are the nearest ones from Sikar district. Sikar is well connected by trains to other cities of Rajasthan and several other parts of the country. Sikar is connected to other major cities of Rajasthan through a well-developed network of buses.
Travel Details (Mandatory)
Get a free quote