Pokharan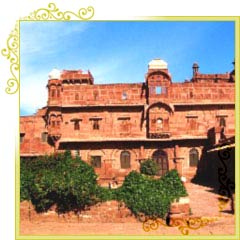 Pokhran is situated midway from Jaisalmer, Jodhpur and Bikaner. The area is sparsely populated. The landscape is dominated by scrubs and sand. Being a site for the Indian nuclear detonation, Pokhran hogged international fame. The furniture and interior crafts of Pokhran are quite famous amongst the tourists.
Pokhran Fort is the major attraction of tourist interest. An assortment of brocade attires of the erstwhile kings, their weapons and several dice games are displayed inside the fort. The Pokhran Fort has now been converted into a heritage hotel. It offers the best accommodation option while you are on a tour to this place.

Pokhran was earlier the capital of the chief of Marwar. Several magnificent havelis (mansions) were built here by the Maheswaris. The windows of these constructions all in red and yellow sandstone were adorned by with peacocks, elephants and parrots. In addition to the havelis, there are some temples as well that are a must-see.
Reaching There
Jodhpur and Jaisalmer airports are the nearest airports. Pokhran is the nearest railhead. If you choose to travel by a taxi or bus, you can reach Pokhran in approximately two-and-a half hours from Jodhpur and in an hour from Jaisalmer.
Travel Details (Mandatory)
Get a free quote