Mandawa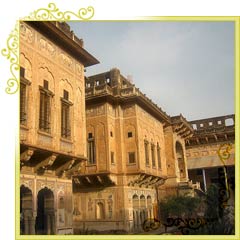 The small yet beautiful town, Mandawa, lies in the heart of the Shekhawati region of Rajasthan. Mandawa is famous for its beautiful havelis and forts. It is situated at a distance of 190 kilometres off Jaipur. Mandawa experiences extreme climate. Mandawa was once a social and cultural hotspot in Rajasthan. The structures in Mandawa till date remind one of its past glory.
The merchant families in the area fortified the little town in the 18th century. Havelis were built and decorated by the rich businessmen. After the migration of these merchant families there was no one who could look after the old havelis. Despite such ignorance, these architectural marvels have their glory intact till date and they are amongst the major tourist attractions in Rajasthan.
Castle Mandawa is the prime tourist attraction in Mandawa. Located in the Shekhawati region, the castle has now been converted into a luxury hotel like several others in Rajasthan.
Reaching There
Jaipur airport which is 190 kilometres away from Mandawa is the nearest airport. A charter airport is present Jhunjhunu, the nearest town. Jhunjhunu is the nearest railhead from Mandawa. Mandawa is connected to the other cities of Rajasthan with a navigable network of roads.
Travel Details (Mandatory)
Get a free quote