Sariska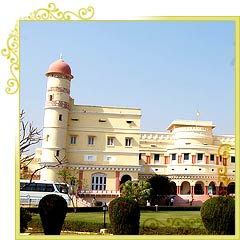 Sariska was once an ancient Rajput state. The state lies in Alwar district of Rajasthan. The state was declared a sanctuary in the year 1955. Later, in the year 1979 it was given the status of a National Park. Though the weather of the place is unpredictable yet it is recommended that you visit Sariska between September to March.
The Sariska Tiger Reserve is a must-visit in Sariska. It is one of the most visited parks of India. Nestled in the Aravali ranges, the park covers an approximate area of 800 square kilometres. Dry deciduous trees dominate its rough and rocky landscape. Whether its camel safaris or shopping in the nearby places Sariska Tiger Reserve has it all. You can take your pick.

Vijay Mandir Palace and Sariska Palace are the other major highlights in Sariska.
Travel Details (Mandatory)
Get a free quote