Khuri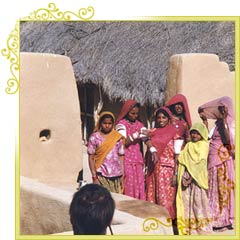 Khuri is a small village in Rajasthan that is located at a distance of 40 kilometres off Jaisalmer. The Khuri village offers the visitor to a close look of the rural life of Rajasthan. Staying overnight in the thatched huts offers the perfect feel of traditional village life. The warmth and hospitality of the simple village folks here will make you feel as if you are in your own home.
The charms and beauty of this rural land makes it quite a popular tourist attraction. The narrow streets of the village sell the best of the Rajasthani handicrafts and food. A visit to the Khuri village is surely an enticing experience.
The sloppy sand dunes in Khuri are the major highlights of the village. A camel safari is the best way to view these sand dunes spread across the desert landscape. The village still echoes its rich and well preserved Rajput culture.
Khuri can be reached within an hour and a half by a car, jeep or a bus ride from Jaisalmer.
Travel Details (Mandatory)
Get a free quote