Ranakpur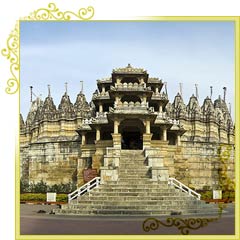 Nestled in the Aravali mountain ranges, Ranakpur is a beautiful place in Rajasthan. It is located on the Jodhpur-Udaipur highway. Ranakpur was constructed in the 15th century. It is an important pilgrimage centre for the Jains. Ranakpur houses the most massive Jain temple in India.
Popularly known as the 'temple city' of Rajasthan, the Ranakpur Jain Temple is high on the list of pilgrims and tourists. Several people from world over come to see the Ranakpur Jain Temple, renowned for their magnificence. The countless pillars in this temple offer the most spectacular sight to the visitors. These pillars are forty feet high and each one of the 1444 pillars is intricately carved out. The beauty of this marble structure is spellbinding for every onlooker. Inside the complex there are other smaller temples which are equally splendid.
Wildlife enthusiasts will love to be in Ranakpur. The wildlife sanctuary in Ranakpur is a home to animals like including panthers, deer, jackals and wild pigs. Even the rarest of the birds can also be found here. You can also witness the natural beauty of the Aravali ranges while you visit the sanctuary.
Reaching There
Dabok airport near Udaipur is the closest air connectivity to Ranakpur. If you approach Ranakpur through train, the Phalna railway station is the nearest railhead. It is just 39 kilometers off Ranakpur. In case you choose to board a bus, you will reach in 5 hours from Udaipur. Buses connect Ranakpur to other major cites within the state such as Jodhpur, Udaipur and Mount Abu.
Travel Details (Mandatory)
Get a free quote