Nagaur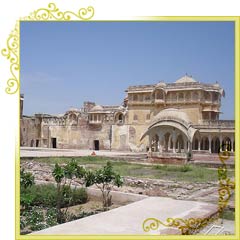 Between the two major cities of Rajasthan, Jodhpur and Bikaner, lies Nagaur. The communities of Rajasthan including the Jats and the Bishnois inhabited this region. Life is colorful here. The place offers a glimpse of the rural charm of Rajasthan. The red chillies drying up in the open extensive fields is the most interesting sight in Nagaur.
The landscape in Nagaur is dominated by certain impressive forts and structures. Nagaur Fort is one of the major attractions of Nagaur. It is an ancient fort built in sandstone. While you are in Nagaur, you can choose to stay at the camp of luxury tents. A stay in the tents pitched in the place is an experience that is unique in itself. Some noteworthy mosques are also present in Nagaur.
The ideal time to visit Nagaur is during the annual Nagaur Fair when the place can be seen at its colourful best. Nagaur Fair is the second largest cattle fair in Rajasthan. The Nagaur fair is organized during the month of January-February. The fair continues for eight days. Trading of livestock and participation in sports are the major highlights of this fair. The fair is truly an extravaganza with immense fun and frolic.
Travel Details (Mandatory)
Get a free quote