Osian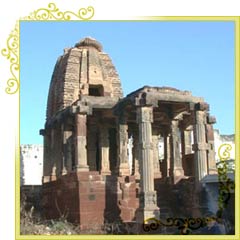 Osian located in Jodhpur City is a fascinating desert oasis in Rajasthan. Osian offers a rustic cultural fiesta to its visitors.

The history of Osian dates back to the 8th century. A visit to Osian takes you back to the by gone era. The rich cultural heritage preserved here and the 16 exquisite temples that adorn the town, make Osian a great tourist attraction. The Brahamanical and Jain Temples in Osian fascinate one and all. Sculptures and carved motifs adorn the walls of these temples.
While you tour Osian, do visit the Sun Temple, Kali Temple, Sachia Mata Temple, Harihara Temple and the grand Jain temples for a perfect spiritual flavor. In addition to these, see the Vishnu and Mahavira temples also. The best part about the temples in Osian is that no two structures are alike.
Stay at camps to experience the perfect desert holiday in Osian.
Reaching There
Osian in Jodhpur, a major city of Rajasthan state, is easily accessible through all modes of transport like air, rail and roadways. Choose the one that suits you the best.
Travel Details (Mandatory)
Get a free quote