Barmer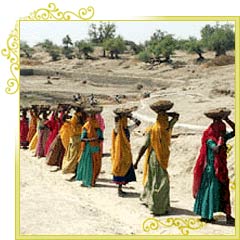 Barmer is a small yet lively town in Rajasthan. It was founded by ruler Bar Rao in the 13th century. The place derives its name from the name of its ruler. Barmer is known all over the country for its hand block printing industry and carved wooden furniture.
The best time to visit the place is during the festive season. The most famous of all the festivals in Barmer is the Barmer Cattle Fair held in the month of March-April. Yet another major festival is the Barmer Thar Festival. A number of tourists visit Barmer which is at its colourful best during the celebrations of these fairs and festivals.
Certain other places of tourist attraction in Barmer include the Mahaveer Park. It is a beautiful park with a small museum inside it. Another pretty garden near Barmer is the Safed Akhara.
Travel Details (Mandatory)
Get a free quote