Roopangarh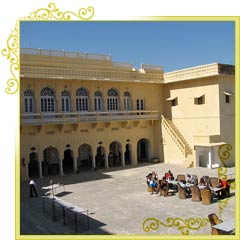 Roopangarh was constructed in the year 1648 by Maharaja Roop Singh of Kishangarh, Rajasthan. The place derives its name from the name of its founder. Roopangarh Fort built in Roopangarh is its major highlight. The fort was also built by Maharaja Roop Singh in the same year as Roopangarh. The fort was built with the purpose of safeguarding the city.
The fort has now been converted and renovated into a heritage hotel. It was the first ever war-fort to be transformed into a luxury hotel. The hotel has 19 rooms that have been beautifully restored and tastefully decorated.

Jaipur airport is the nearest airport from Roopangarh. The nearest rail head is at Kishangarh. Roopangarh is 25 kilometres away from this railway station. If you choose to travel by road, you can travel in buses which are available from Jaipur. Roopangarh is at a distance of 125 kilometres from Jaipur.
Travel Details (Mandatory)
Get a free quote